Ruggedising biomedical devices for field-testing in resource-constrained environments: Context, issues and solutions
Sarah Schopman

Kyle Kalchthaler

Ryan Malthern

Khanjan Mehta

Peter Butler
Abstract
Community Health Workers (CHWs) are community members who address primary health challenges through education, prevention, and awareness initiatives. CHWs conduct home visits, provide treatment for simple common illnesses, and offer health education on numerous topics including nutrition, child health, and family planning. Since they serve on the frontlines of healthcare in rural communities, ruggedised and low-cost biomedical devices could improve the efficiency and efficacy of their caregiving efforts. However, the vast majority of biomedical devices used in sub-Saharan Africa are designed by engineers in Western countries who are not familiar with the distinct physical, environmental, socio-cultural, and economic environment of the context for which they are designing. Systemic challenges include long distances, poor transportation, unreliable infrastructure, harsh climate, and limited operator education. Specifically, three sets of hurdles to the adoption, sustainability and usability of devices by the CHWs include vibrations and wire strain, dust and water penetration, and device usability. This article discusses the operational context of CHWs and then delves into the specific problems encountered, and practical solutions applied, during four years of field-testing ruggedised biomedical devices in rural Kenya.
References
Buehler, B., Ruggiero, R. & Mehta K. 2013, "Technology Opportunities for Enhancing the Effectiveness of Community Health Workersâ€, IEEE Technology & Society Magazine, vol. 32, no. 1, Spring.
Chudi, Ibekwe 2010. "Healthcare Problems in Developing Countriesâ€. Medical Practice and Reviews April, Volume 1 ed.: pp. 9-11.
Dittrich, P. S. & Manz, A. 2006, "Lab-on-a-chip: Microfluidics in Drug Discoveryâ€. Nature Reviews Drug Discovery 5.3: pp. 210-18.
Doctors of the World, Netherlands: Perspective, n.d., Ads of the WorldTM. N.p., Web. 30 Nov. 2012. .
Duke Global Health Institute, n.d., "About the Instituteâ€. N.p., Web. 27 Feb. 2013. http:// globalhealth.duke.edu/about-the-institute/
Dzombak, R., Mehta, K., & Butler, P. 2012, "Design by Example: A Web-based Tool for Context-Driven Biomedical Device Design.†NCIIA Open Conference, San Francisco, CA.
Eulich, W. 2012, "Developing Countries Lead the Way in Deploying Mobile Technologyâ€. The Christian Science Monitor, 28 July. Web. 30 Nov. <http://www. csmonitor.com/World/Global-Issues/2012/0728/ Developing-countries-lead-the-way-in-deploying- mobile-technology/%28page%29/2>.
Fleishman, A., Wittig, J., Milnes, J., Baxter, A., Moreau, J., Mehta, K. 2010, "Validation Process for a Social Entrepreneurial Venture in Tanzania: A Case Studyâ€, International Journal for Service Learning in Engineering: Humanitarian Engineering and Social Entrepreneurship, Vol 5, No 1.
"Forerunner for Heartstreamâ€, n.d., ForeRunner. N.p., Web. 12 Nov. 2012. <http://www.ideo.com/work/ forerunner>.
Foster, K. R. 2010, "Telehealth in Sub-Saharan Africa: Lessons for Humanitarian Engineeringâ€, IEEE Technology and Society Magazine, vol.29, no.1, pp. 42-49, Spring.
"Johns Hopkins University Center for Bioengineering and Innovation Designâ€, n.d., The Center for Bioengineering Innovation & Design, Johns Hopkins University Whiting School of Engineering. N.p., Web. 27 Feb. 2013. http://cbid.bme.jhu.edu/
Keizer, G. 2012, "Mozilla Promises Firefox OS Phones in Early 2013â€. Computerworld. N.p., 3 July. Web. 30 Nov. 2012. <http://www.computerworld.com/s/ article/9228770/Mozilla_promises_Firefox_OS_ phones_in_early_2013>.
World Health Organisation, n.d. "Kenyaâ€. N.p., Web. 12 Oct. 2012. <http://www.who.int/countries/ken/ en/>.
Lekoubou A., Awah P., Fezeu L., Sobngwi E. & Kengne A. P. 2010, Hypertension, Diabetes Mellitus and Task Shifting in Their Management in Sub- Saharan Africa. International Journal of Environmental Research and Public Health. 7, pp. 353-363.
Malkin, R. A. 2007, "Design of Health Care Technologies for the Developing Worldâ€. Annual Review of Biomedical Engineering. 9: pp. 567-587.
Martin, J., Norris, B., Murphy, E. & Crowe, J. 2008, "Medical Device Development: The Challenge for Ergonomics. Applied Ergonomicsâ€, 39 (3), pp. 271- 283.
Mathern, R., Schopman, S., Kalchthaler, K., Mehta, K. & Butler, P. n.d., "Design of affordable and ruggedised biomedical devices using virtual instrumentationâ€, Journal of Medical Engineering & Technology (In Press).
Peña-Mohr, J. 1987, "Distributing and Transferring Medical Technologyâ€. International Journal of Technology Assessment in Health Care, 3.02, p. 281.
Qin, R., Dzombak, R., Amin, R. & Mehta, K. n.d., "Reliability of a Telemedicine System Designed for Rural Kenyaâ€, Journal of Primary Care and Community Health (In Press).
Ricknas, M. 2011, "Nokia Readies Linux OS for Low-end Smartphonesâ€. IT News, Technology Analysis and How-to Resources. N.p., 30 Sept. Web. 12 Nov. 2012. <http://www.itworld.com/ hardware/208803/nokia-readies-linux-os-low-end- smartphones>.
United Nations Development Program, 2007, Human Development Report (HDR), November 27, p. 25.
World Bank, n.d., "Poverty Headcount Ratio at $1.25 a Day (PPP) (% of Population)â€. Data. N.p., Web. 30 Nov. 2012. <http://data.worldbank.org/indicator/ SI.POV.DDAY>.
World Health Organization, 2012. World Health Statistics 2012. Accessed December 16.
Young, F., Critchley, J. A., Johnstone, L. K. & Unwin, N. C. 2009, A review of co-morbidity between infectious and chronic disease in Sub Saharan Africa: TB and Diabetes Mellitus, HIV and Metabolic Syndrome, and the impact of globalization. Globalization and Health; 5:9.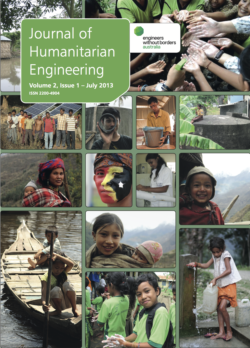 Authors retain copyright over their work and licence the work to the journal under a Creative Commons 3.0 Attribution (CC-BY) Licence. The CC-BY licence is the most open licence in terms of enabling free distribution and communication of the work. Works prepared using contents of the journal must reference the author(s) and the journal.