Development and commercialisation of rechargeable wooden LED lamps
Abstract
The focus of this project was to work with local staff at Kathmandu Alternative Power and Energy Group to commercialise a product which would generate recurring income for the organisation, to enable staff to learn the process of commercialisation and to provide employment and skills in the local community. Rechargeable Light Emitting Diode (LED) lamps were deemed suitable for these aims, as they are a simple product, yet one that is urgently required in Nepal due to the prevalence of 'load-shedding' – scheduled electrical blackouts. After reviewing the market, it was found that it would be impossible to compete with the price of cheap imported Chinese rechargeable LED lamps, so an alternative approach was taken. This involved sourcing wooden off-cuts from a local furniture factory and transforming them into attractive desk lamps, with the target market being affluent Nepalis, ex-pats living in Nepal and tourists. Successful initial sales were achieved through a Kathmandu-based ex-pat email group, hotel-markets and souvenir stores. KAPEG staff have continued the project, producing variations on the initial design including Himalayan rock salt lamps, employing local people to manufacture lamps and selling them at markets in Kathmandu. Staffing and marketing challenges remain to ensure the lamp manufacture and sales continue.
References
Freere,P, Lamichhane, C, Shrestha, G, Ghimire, P, Sharma, R, Sinha, R & Acharya, P 2008, 'Starting a Technical Business in Nepal', in International
Workshop on Natural and Low–Cost Materials in Wind Energy Technologies, Dhulikhel, Nepal, November 10-12, 2008, DTU Risø, Denmark.
Irvine-Halliday, D, Craine, S, Upadhyaya, MR & IrvineHalliday, G, 2000, "Light Up The World – Nepal Light Project and Everest,†IEEE Canadian Review, vol. 36, pp. 14-18, Fall 2000.
Light for All – Delivery Mechanismfor Solar Tuki (Solar Lamp), 2008, Centre for Renewable Energy, Nepal, Jwagal, Lalitpur, viewed 9th January 2012, Centre for Renewable Energy.
Sharma, DK, Shrestha JN, Shrestha BR 2005, 'Low Cost Lighting System to Replace the Kerosene Lamps', Paper presented to the World Renewable Energy Regional Congress, Jakarta, Indonesia, 18-21 April 2005.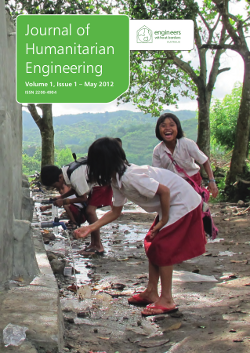 Authors retain copyright over their work and licence the work to the journal under a Creative Commons 3.0 Attribution (CC-BY) Licence. The CC-BY licence is the most open licence in terms of enabling free distribution and communication of the work. Works prepared using contents of the journal must reference the author(s) and the journal.