Developing Rural Water Systems: An Evaluation of Haiti's First Chlorinated Municipal Water System in the Central Plateau
Aaron S. Gordon

Clemson University

Jeff Plumblee

Clemson University

David Vaughn

Clemson University
Keywords:
Water, Haiti, Community development, Rural water systems
Abstract
Haiti has the worst drinking-water indicators in the Western Hemisphere and access to improved water sources has not dramatically improved for over two decades. This limited success despite hefty investments can be attributed to a variety of reasons including lack of community involvement and lack of long-term support of operation and maintenance for rural water systems. This paper presents a case study of Haiti's first municipal chlorinated water system in the rural Central Plateau and critically examines its effectiveness. While the technology behind the Cange water system is highly innovative and effective, its lack of community involvement and feasible operation/maintenance jeopardizes its long-term viability. Methods to sustain the system without major external intervention are currently being developed and attempted through a partnership with Haiti's public water sector. NGOs and organizations should ensure that an appropriate community development framework is established prior to system installation so that these problems can be avoided.
References
Barger, D., Gordon, A., Plumblee, J., Ogle J., Dancz, C., and Vaughn, D. (2016). Increasing student development through multi-level immersive learning: Clemson Engineers for Developing Countries case study. International Journal of Service-Learning Education, Humanitarian Engineering, and Social Entrepreneurship.
Bakalian, A. and Wakeman, W. (2009). Post-Construction Support and Sustainability in Community-Managed Rural Water Supply. Water Sector Board Discussion Paper Series. The World Bank.
Churchill, A., De Ferranti, D., Roche, R., Tager, C., Walters, A. and Yazer, A. (1987) Rural Water Supply and Sanitation: Time for a Change. World Bank Discussion Paper 18. Washington D.C.: World Bank.
Direction Nationale de L'Eae Potable et De L'Assainissement (DINEPA), (2014). Document D'Orientation Strategique pour L'Assainissement en Haiti. Port-au-Prince: Ministére des Travaux Publics, Transports, Communications (MTPTC).
Direction Nationale de L'Eae Potable et De L'Assainissement (DINEPA), (2016). Rapport Diagnostic. Port-au-Prince: Office International de l'Eau.
Gelting, R., Bliss, K., Patrick, M., Lockhart, G. and Handzel, T. (2013). Water, Sanitation and Hygiene in Haiti: Past, Present, and Future. American Journal of Tropical Medicine and Hygiene, 89(4), pp.665-670.
Haiti Libre, (2012). Haiti - Social : First chlorinated municipal water system, in the Central Plateau.
Iyer, P., J. Davis and E. Yavuz (2006) Rural Water Supply, Sanitation, and Hygiene: A Review of 25 Years of World Bank Lending (1978–2003) - Summary Report. Water Supply & Sanitation Working Notes, Note No. 10, July 2006, World Bank.
Kidder, T. (2003). Mountains Beyond Mountains. New York: Random House.
Moriarty, P., Smith, S., Butterworth, J. and Franceys, R. (2013). Trends in Rural Water Supply: Towards a Service Delivery Approach. Water Alternatives, 6(3), pp.329-349.
Najlis, P. and Edwards, A. (1991), The International Drinking Water Supply and Sanitation Decade in retrospect and implications for the future. Natural Resources Forum, 15: 110–117.
Ogle, J., Plumblee, J., Vaughn, D., and Gordon, A. (2016), Enhancing Student's Learning Experiences through Translational Research in Multidisciplinary Engineering Education. 2016 ASEE Annual Conference & Exposition.
Plumblee, J., Bell, L. & Klotz, L. (2011), Meeting Engineering Program Objectives through Service Learning Opportunities in Developing Countries. Journal of Civil Engineering and Architecture, 5(2), pp.97-103.
Rural Water System Network (RWSN), (2010). Myths of the Rural Water Supply Sector. Perspectives. Rural Water Supply Network.
UNICEF (2015). Progress on Sanitation and Drinking Water-2015 update and MDG assessment. Geneva: World Health Organization.
Whittington, D., Davis, J., Prokopy, L., Komives, K., Thorsten, R., Lukacs, H., Bakalian, A. and Wakeman, W. (2008). How well is the demand-driven, community management model for rural water supply systems doing?. Manchester: Brooks World Poverty Institute.
World Health Organization/UNICEF Joint Monitoring Programme (JMP) for Water Supply and Sanitation, 2012. Progress on Drink- ing Water and Sanitation: 2012 Update. Available at: http://www .wssinfo.org/fileadmin/user_upload/resources/JMP-report-2012- en.pdf.
World Health Organization (WHO). (2003). Constraints affecting the development of the water supply and sanitation sector. [online] Available at: http://www.who.int/docstore/water_sanitation_health/wss/constraints.html#Constraints [Accessed Aug. 2016].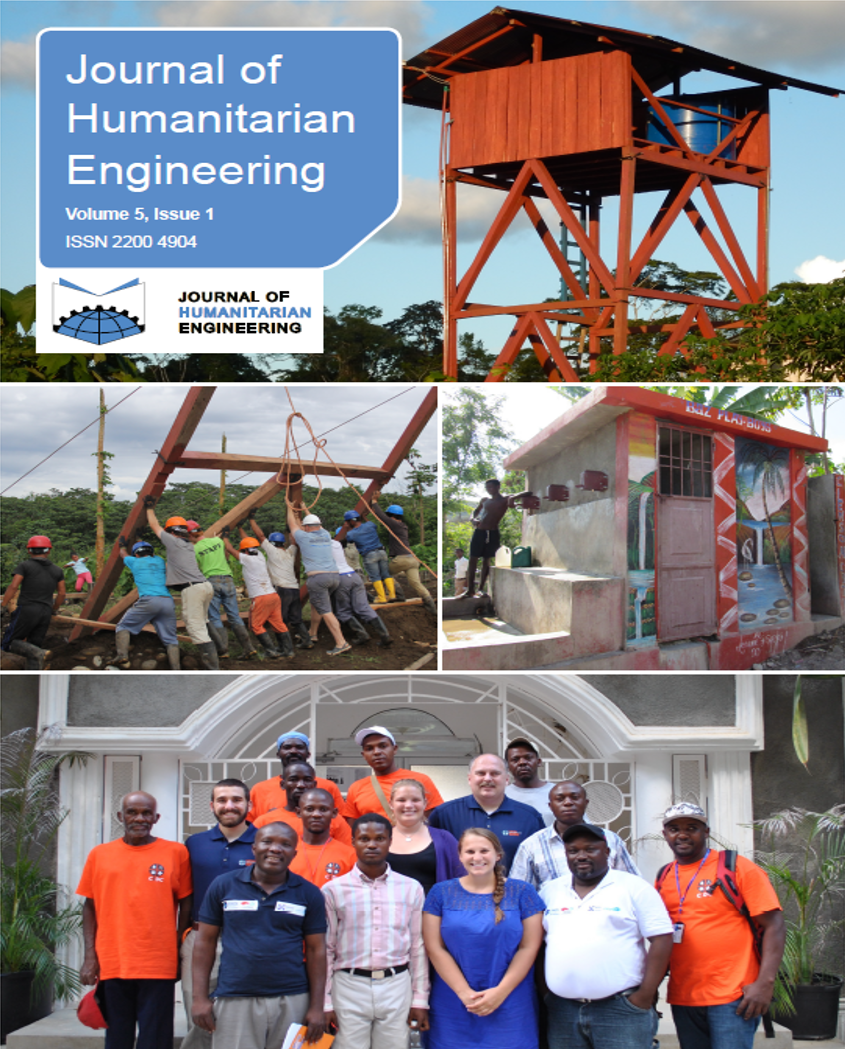 Authors retain copyright over their work and licence the work to the journal under a Creative Commons 3.0 Attribution (CC-BY) Licence. The CC-BY licence is the most open licence in terms of enabling free distribution and communication of the work. Works prepared using contents of the journal must reference the author(s) and the journal.